Inkjet Media,
Ink and Supplies
PriscoDigital is your single-source for all you need for print production and to keep your printing devices running at optimum condition. We provide the full-line of original HP ink and supplies for all the systems we offer and media for any inkjet printing application. Click on the links below for more details.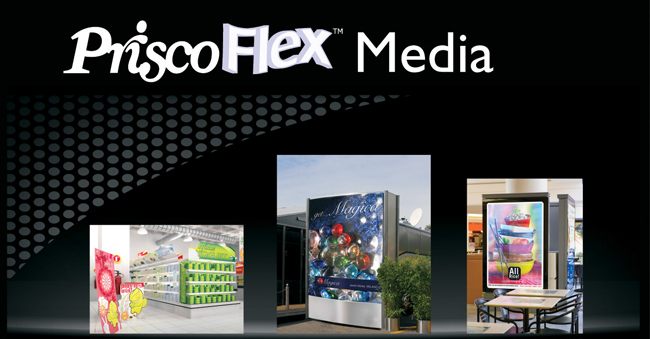 ---
Inkjet Media
PriscoDigital provides a full assortment of wide and super-wide format imaging materials specially selected to enhance the performance of the HP Scitex wide format inkjet systems that we sell and service as well as all other brands of imaging systems. 
Our media allow you to produce superior quality signs, banners, trade show graphics, backlit displays, point-of-purchase displays, floor graphics, window graphics and fine art reproduction and custom packaging. Your capabilities are unlimited with media from PriscoDigital.
---
Roll Media
PriscoDigital offers flexible media in configurations (core, length and width) suitable for all HP Scitex UV and Latex printing systems and other brands selected from leading manufacturers. Click on graphic below for additional detail. 
---
Rigid Media and Laminates
No matter what the job, PriscoDigital has a wide assortment of media and laminates for any application. You will find media from the manufacturers below and others. Click on graphic below for additional detail.

---
Original HP Ink and Supplies
No need to go anywhere else! 
Prisco is your one source for inks and consumables for all HP Industrial Inkjet systems sold by PriscoDigital. Please contact your local Prico sales representative for more details. 
Click here to obtain HP MSDS information

Printheads
UV Replacement Bulbs
Maintenance Kits and Cleaning Fluids
HP Industrial Inkjet inks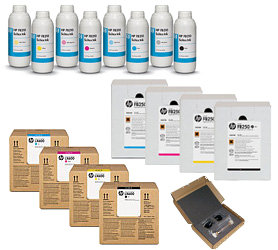 HP Industrial Inkjet Inks are formulated and manufactured by HP to work together with HP large-format inkjet printers. Designing and developing the printhead, ink, and printer together creates high-performing, dependable printing systems — just what users need to achieve great results. 
The HP ink offering includes latex, solvent, UV-curable and water-based inks, all available in a variety of formulations. Used with HP Industrial Inkjet printers, the inks produce dry, ready-to-use, durable images with a large color gamut on a wide variety of rigid and flexible substrates. The inks are designed for specific HP wide-format printing systems, ensuring accurate color reproduction and compatibility.  
---
Ink and Accessories for Current HP Industrial Inkjet Systems
Click on the system of choice below