Prisco is pleased to offer the most extensive line of paper and synthetic packing materials in the printing industry.  We have press packing material to fit EVERY press type and configuration from the leading manufacturers in our industry. The information below is a brief summary of some of the packing products we are offering.
LITH-PAK® II PRESS PACKING
Lith-Pak is used on the plate and blanket cylinders to assure a consistent impression pressure during printing. Unique characteristics of Lith-Pak II include impregnation with a rust inhibitor to prevent cylinder rust and; high density to prevent collapse, insure longer runs and consistent caliper. Caliper consistency within and between sheets is guaranteed. Custom cut sizes are available to your exact specifications. Calipers available .002 – .015.
POLYPAK
Polypak is a 100% plastic underpacking sheet for the blanket or plate cylinders of the press. This is a tough packing material that will not rip, is waterproof and easy to clean. The sheets can also be used as under-packing for vacuum frames.
PERMA-PAK / SURE-PAK
This plastic packing is a uniform caliper film of clear to semi-clear polyester to which a low tack, creep resistant adhesive has been applied. The adhesive is waterproof and very resistant to most press solvents to assure it will not degrade or loosen during normal operating conditions. This product offers uniform caliper plate or blanket packing that need not be changed frequently as is the case with paper packing.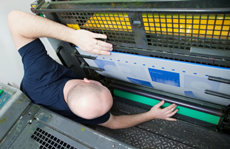 To find out more about our packing offerings, please fill out the form below.