Flexo
Printing
New Technologies for The Flexo Industry
Prisco has over 100 years of experience helping printers improve their process! Our customers enjoy the benefit of a one-source supplier for all pressroom chemistry, consumables, environmental and process control equipment as well as on-site technical support to assist them in optimizing their manufacturing operations. We are happy to now offer this combination of services and products to flexographic printing operations to help improve bottom-line profitability.
Adhesives
PriscoBond is a superior line of adhesives designed and formulated by Prisco. The PriscoBond product line and proprietary formulas cover the entire gamut of flexographic print production applications. Whether you are looking for a laminating, hot-melt, or water-based adhesive, our chemists have developed a number of quality products to help you put the 'finishing' touch on your work.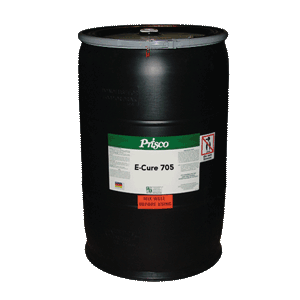 Coatings
A number of PriscoFlex water-based and UV coatings have been developed for the flexographic market. These include products with Gloss, Satin, Matte and Specialty finishes. All Prisco coatings have unique formulations that provide excellent performance and outstanding durability. Our manufacturing facility also has the ability to address coating volume needs ranging from individual pails to large tankers.
Our E-Cure 705 is a general purpose Flexo UV coating that has a unique formulation providing excellent gloss and outstanding durability. E-Cure 712 is a high-quality gloss UV coating that is Benzophenone Free. For the flexo/heatset-web markets, Q7001A-W is an aqueous product that is chemical resistant.
Press Wash
PriscoFlex washes and cleaners have been designed to effectively clean rollers and plates. Our products can address the cleaning needs of anilox rollers using both water-based and UV inks. Since it is critical to prevent the swelling of photopolymer plates, we have formulated our products to meet that criteria and help you achieve better print quality as a result.
Maintenance Products & Lubricants
Eezy-Klene™ is a creamy-white product that acts as a rubber deglazer, cleaner and conditioner. It contains plasticizers that help prevent premature hardening of rollers and blankets, while providing deep-cleaning action during wash-ups and color changes.
Prisco Roller Lube™ reduces friction and helps prevent overheating, swelling and cracking by lubricating dry rollers being run without ink. Prisco Roller Lube should be used to prevent stored rollers from drying out and cracking.
Cleansall™ is a highly effective, concentrated cleaner for dampener covers and sponges. It may also be used as a general purpose cleaner for pressroom maintenance.
Force 40™  is a ready-to-use, high-powered, solvent-fortified, non-caustic, non-combustible cleaning formula. Force 40 may be used for general maintenance as well as for cleaning press side-frames, etc.
All Prisco oils are formulated specifically for the Printing Industry from the finest ExxonMobil base oils and additive packages.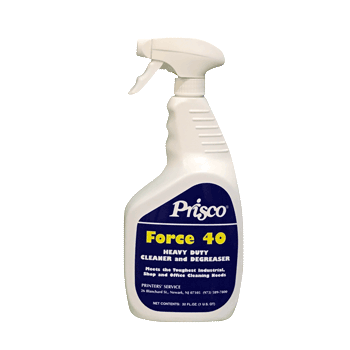 If you would like to learn more about our Flexo product offerings, please fill out the form below.